Bailey's Story
Bailey's story is one that unfortunately is all too common. His owner regrettably sent him to her Farrier for breaking in as she was struggling on her own. Poor Bailey was subjected to horrendous beatings and was returned to his owner with scars all over his face and legs, fractures to the bars of his mouth and a complete nervous wreck. Not surprisingly he was very head shy and also threw her off when she tried to ride him, as it wasn't until I suggested she got his teeth and back checked that we found out the full extent of the injuries to his mouth. When she spoke to the man who broke him he just said he was a 'bad un'.
Once Bailey's mouth had healed he came to me for rehabilitating and re-starting. He was extremely fearful of being touched, was very weak and dull in his coat. Through consistent, careful handling he was soon accepting a bridle. I did lots of groundwork with him to help build up this strength and did lots of bareback work which helped desensitize him to his fear of being touched. Getting him used to a rider with a saddle on was probably the hardest thing for him to get over as this obviously brought back terrible memories for him and he produced some quite explosive reactions. However, by using the in hand techniques I was able to overshadow his fearful response and he was soon accepting a saddle and rider.
Once this hurdle was overcome he came on in leaps and bounds and after a few months was hacking out alone and in company, could walk, trot and canter, and would come to call in the field. Bailey had the most amazing temperament and had a huge fan club at the yard. Unfortunately his owner had to sell him due to financial reasons but he has found a lovely new home where he can continue his education.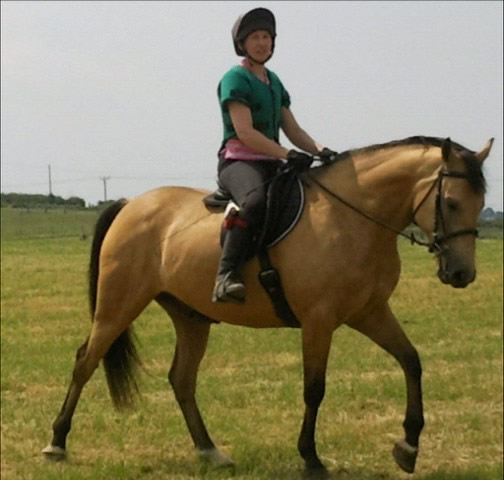 Bailey hacking out happily after Sally's training